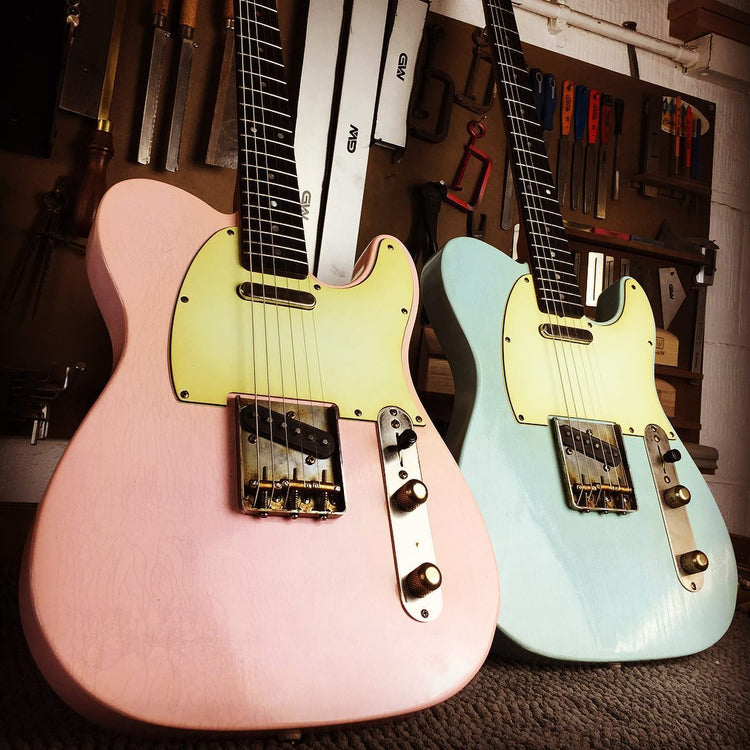 Changes are Afoot at Fraser Guitars
2020 has been our busiest year yet. The expansion of our Artist, Vintage and Custom Series, and introduction of our Vintage Classics has undoubtedly been a labour of love.
In a very short and very busy six years, we have made hundreds of guitars and shipped to over 30 counties, across six continents. With a rapidly growing waiting list and lengthier lead times, we have long been deliberating the past and present of Fraser Guitars, and where the future will take us.

We have always been incredibly thankful for the support we have received from our customers and followers on social media, and feel overwhelmingly privileged to have received such amazing feedback on all aspects of our guitars and customer service, including acclaim from a number of converts who profess loathing for relic guitars [with the exception of...].

It is with pride that we can look back over the past six years with the knowledge that every body, every neck, every pickup, every part, every guitar made, aged, crafted and painted has been made to Dean's personal standards, with, or touched by, his own hands. This has consistently ensured we produce the best quality guitars with the best components alongside the distinctive Fraser relic. It is this level of commitment and responsibility which we retain as we move forward.

We have, over previous years, worked closely with manufacturers in Britain, Japan and Korea to incorporate a range of parts in our guitars which are of the highest standard and quality. We have tested hundreds of parts available throughout the industry to ensure the parts we incorporate in Fraser Guitars offer the best balance of quality and affordability to all our customers.  The feedback we have received from Fraser Guitar owners reassures us we are making the right decisions.

Alongside our assurances that Fraser Guitars  will continue to manufacture guitars encompassing the desirable fusion of woods, aesthetics, sound quality and playability, over the coming months, we are introducing some changes to our manufacturers and range of guitars and pickups available.


Pickups

Fraser Guitars have been winding pickups to vintage specification in-house since the start of operations. Our pickups are individually hand-wound incorporating the finest and most authentic, traditional materials recreating the sought after vintage tone.

Due to an increasing demand for our pickups to be purchased as stand alone items, we are widening the range of pickups available over the coming months to recreate a wide selection of tones that cover a variety of different playing styles.

Our "Reclaimed Tone" pickups will be available via our website for both individual and wholesale purchase.


Bodies and Necks

The processes involved in making bodies and necks by hand is a consuming endeavor which requires time and discernment. The process of making connections with manufacturers who have the ability and integrity to produce woods, bodies and necks to our standards and specifications has taken equal time and discernment.

While all our bodies and necks have, to date, been made in-house, from the end of October 2020, when current outstanding orders have been fulfilled, all bodies and necks for our VSS, VTS, VCS, VCT, Artist and Vintage Classics collections will be made using bodies and necks made for us by manufacturers in the UK and Japan.

Outsourcing production of our bodies and necks has involved our input at every stage of selection and production in order to ensure our bodies and necks are made to our exacting specifications and Master grade standards.

The bodies and necks supplied by our manufacturers are unfinished with bare wood. Each body and neck will receive the same care and attention as each hand made body and neck produced to date by Fraser Guitars. Our quality control, inspection, sanding, polishing, all fret work, all nitro finishes and all ageing will continue to be carried out by us, in-house.

Where alternative specification necks previously required upgrading to a custom order, introducing bodies and necks manufactured for us means over the coming months we will introduce a wider variety of woods, radius and fret options across our standard collections without the additional cost associated with custom orders.


Custom Orders

Custom orders will continue on a limited basis only.

These one off builds will be Master built by Dean Fraser to his own personal standards, with his own hands and to customer design and specification.

All components for custom orders can be individually sourced and selected and will incorporate bodies and necks hand made in-house.

Dean will work closely with you to ensure a guitar that will be perfect for your own playing style and needs.

Photos of ongoing production and consultation at every stage of the build process can be accommodated.


What's Next

2020 is an exciting time for us at Fraser Guitars. We are continuing to work on a number of new projects which we will share over the coming months.

As always, Fraser Guitars appreciate all and any feedback from our customers, prospective customers and social media followers.

We aim to be as responsive and transparent in our operations as possible, however, despite numerous requests, we are unable to divulge trade secrets or the Secret Krabby Patty formula.